Dumpster Rental Hutchinson KS
Clear the waste and focus on your project goals with the dumpster rental Hutchinson KS relies on for simple, streamlined, and stress-free waste removal options. We're proud to bring you a comprehensive solution to your waste management needs, whether you're a homeowner, roofer, contractor, or construction company manager. From small clean-up tasks to large-scale construction projects, our range of dumpster sizes ensures we've got you covered. And it's not just about providing a service; it's about making your life easier and your projects run smoother.

Here's how we do it: We combine stellar service with a straightforward, user-friendly online booking system, a commitment to competitive pricing, and partnerships with industry-leading manufacturers. Our 5-star ratings tell a story of consistent, on-time deliveries, exceptional customer service, and a dedication to customer satisfaction that sets us apart in the market. We also understand that every project comes with its own set of challenges, which is why we are always ready to adapt and accommodate your unique needs.

We're proud to be the go-to provider for Hutchinson, Kansas, and surrounding areas, and we're committed to maintaining this status by prioritizing friendly service, prompt delivery, and cost-effective prices. Whether you're clearing out a two-car garage, completing minor roofing repairs on a rental property, or embarking on a full-scale commercial demolition, we have the dumpster rental Hutchinson KS counts on to help them get the job done safely and efficiently.

At English Rentals, you're not just a client; you're a partner. We're here to support you in achieving your goals by providing a reliable, efficient, and affordable dumpster rental Hutchinson KS and neighboring cities of Sedgwick County can depend on. With our helpful and communicative team on your side, waste management becomes a stress-free experience, leaving you more time and energy to focus on what matters most - your project. Trust English Rentals today and experience the difference a truly customer-focused dumpster rental service can make!
We Take Just About Everything
Some examples of the junk we haul away include:
Refrigerator Disposal

Garbage Removal

Mattress Disposal

Foreclosure Clean Outs
Construction Waste Removal

Yard Waste Removal

Trash Removal

Appliance Removal
Television Disposal & Recycling

Furniture Removal

E-Waste Disposal

Hot Tub Disposal
Your Trusted Provider for a Dumpster Rental in Hutchinson
Discover why we're the premier provider for a dumpster rental in Hutchinson and begin your waste removal process with the added support of our experienced and friendly team! Choosing a service provider often comes down to trust, quality, and convenience, and at English Rentals, we aim to offer all three. One of the top reasons customers choose us is our impressive 5-star ratings. These ratings testify to our commitment to providing exceptional dumpster rental services. They reflect our consistency in delivering on time, every time, and our unyielding dedication to customer satisfaction.

We know that your time is valuable. That's why we offer a straightforward, user-friendly online booking system. You can select the dumpster size you need, schedule your delivery and pickup times, and complete your payment in just a few simple steps. We've streamlined the process to make it as quick and convenient as possible for you. We make it as easy and convenient as possible to edit your order, add numerous bins, and even repeat orders in the future. When you book the #1 dumpster rentals Hutchinson KS has to offer from our team, we're with you every step of the way to make sure the process runs smoothly.

We're also proud of our partnership with industry-leading manufacturers. This means our dumpsters are not just any bins - they're durable, easy-loading, and designed to safely contain various waste materials. Whether you're disposing of residential clutter, construction debris, or commercial waste, you can trust that our dumpsters can take it when you rent a dumpster Hutchinson and surrounding areas rely on from our team.

We know that budgets matter, so we've worked hard to ensure we offer the most competitive dumpster rental prices Hutchinson, KS can provide. We believe everyone should have access to quality dumpster rental services without breaking the bank. With English Rentals, you get top-notch service at prices that make sense. Trust our customer-focused company and our commitment to making your waste management process seamless and affordable with our convenient choices for a dumpster rental in Hutchinson.
Dumpster Rental Hutchinson: Your One-Stop Solution for Versatile and All-Purpose Project Cleanup
Book the dumpster rental Hutchinson businesses, contractors, homeowners, and individuals depend on to affordably and efficiently contain and clear waste. Whether you're a homeowner sprucing up your property, a roofer replacing shingles, or a contractor managing a large construction site, our versatile dumpster rental service in Hutchinson is designed to cater to all your waste removal needs.

At English Rentals, we know that every project is unique and requires a tailored approach. That's why we offer a range of dumpster sizes to match the specific requirements of your job. Whether it's a small clean-up task in your backyard or a large-scale construction project, we have the right dumpster for you. We believe in simplifying your projects, and our easy-to-use, reliable dumpster service plays a key role in this.

Our commitment doesn't stop at providing dumpsters. We also ensure a smooth, hassle-free experience from start to finish when you rent a roll off dumpster Hutchinson can trust from our team. Our straightforward booking process, responsive customer service, and competitive pricing make us a favorite among our clients. And in case your needs change mid-project, our flexible services are designed to accommodate last-minute requests.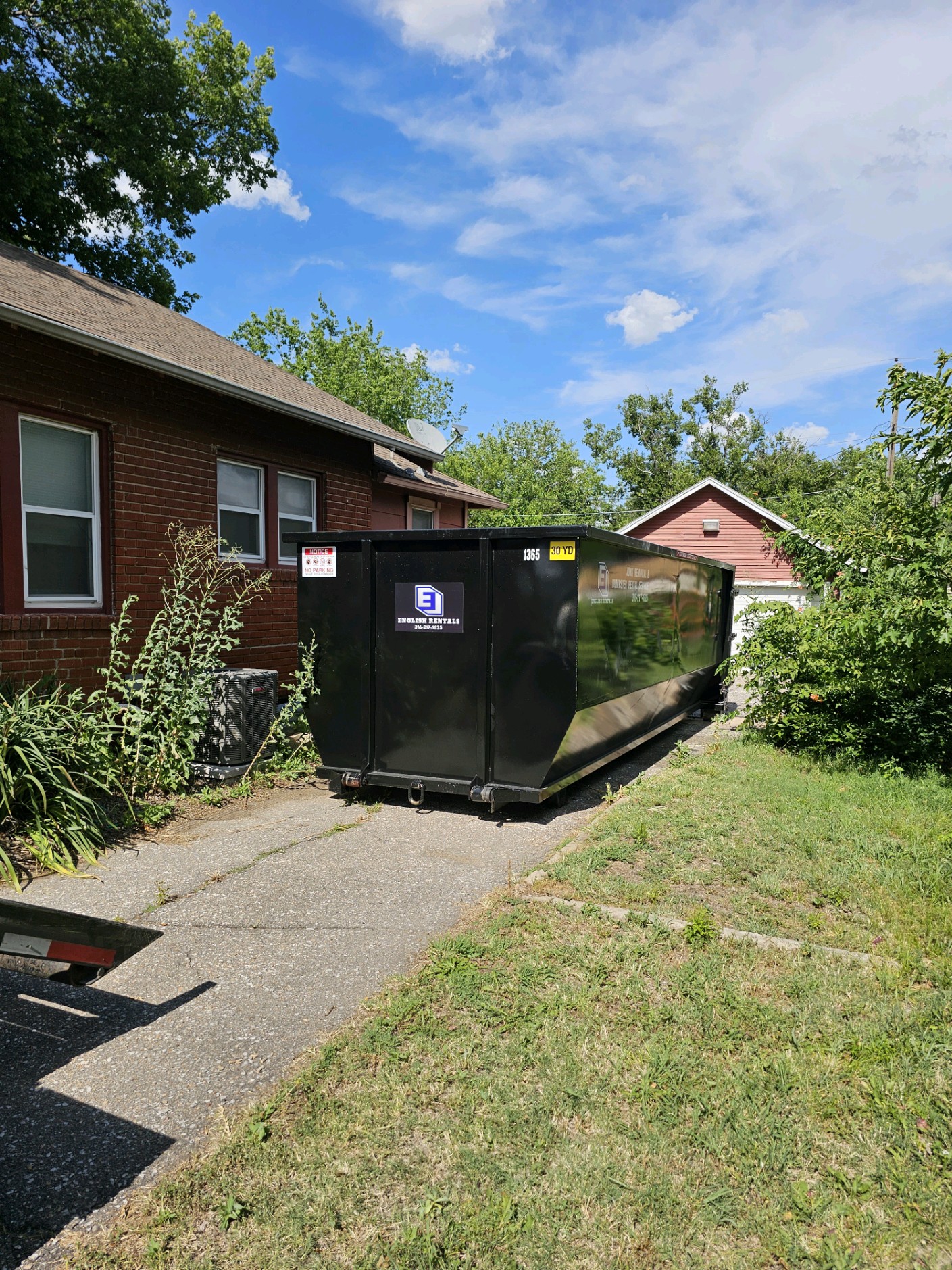 When you choose a dumpster rental Hutchinson can depend on from English Rentals, you're not just renting a dumpster. You're investing in a reliable and versatile service that works hard to make your projects run smoothly. No matter the size or scope of your upcoming residential, commercial, or construction project, count on us to be your go-to waste disposal partner with the best Hutchinson KS dumpster rental in the area!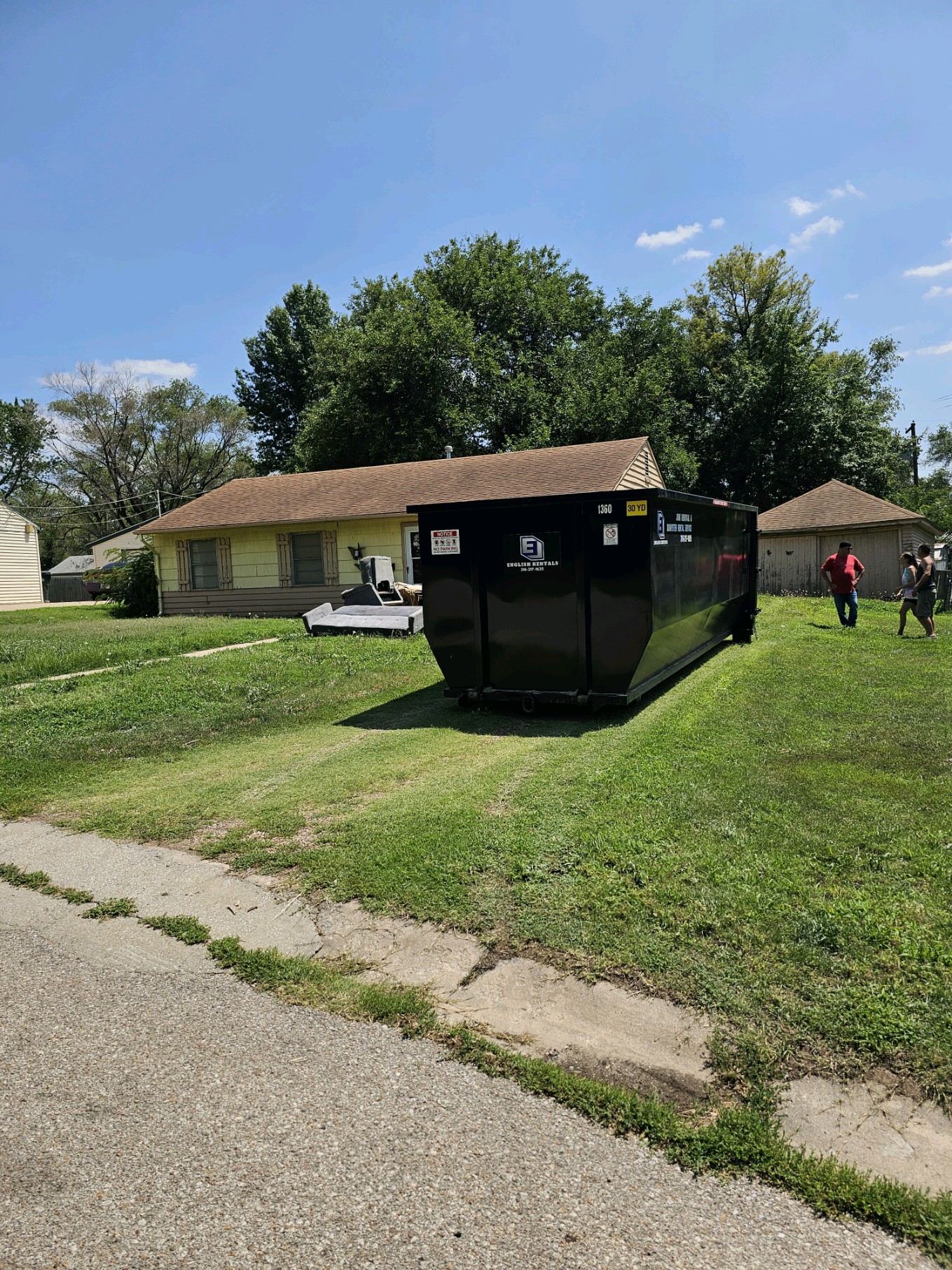 Rent A Dumpster Hutchinson KS Homeowners Use for Renovations and Clean-Outs
Rent a dumpster Hutchinson KS homeowners use for remodels, renovations, and repairs, and be amazed at our customer service, flexible scheduling options, and budget-friendly prices! We know that homeowners face unique challenges when it comes to waste management. Whether you're tackling a home renovation, clearing out your garage, or simply doing a major spring cleaning, our top-tier dumpster rental services are here to simplify your tasks. From downsizing to estate sale cleanouts to kitchen renovations, we've designed our services to be flexible and adaptive.

Need an extra dumpster rental in Hutchinson Kansas on short notice? No problem. Our dedicated team is always ready to respond to your needs promptly and efficiently. When you book with our company, you're partnering with a team committed to making your home projects as hassle-free as possible. Book a residential dumpster rental using our online system and make the smart choice for your home and peace of mind.
Local Dumpster Rental in Hutchinson for Yard Waste and Landscaping
Our team provides a local dumpster rental in Hutchinson that's an optimal solution for yard waste disposal and landscaping. Our dumpsters are perfect for collecting all types of organic waste generated from your yard, including leaves, grass clippings, branches, shrubs, or even tree trunks. Available in various sizes, our bins can handle everything from small garden cleanups to large landscaping projects with ease. They provide a convenient, efficient, and eco-friendly way to dispose of green waste, reducing the potential fire hazard and keeping your yard tidy. With our prompt delivery and pick-up, we've got the local dumpster rental Hutchinson, KS uses to make yard waste management a walk in the park for all homeowners and landscaping businesses.
Heavy-Duty Dumpster Rental Hutchinson, KS Uses For Construction Projects
Choose the dumpster rental Hutchinson, KS contractors and construction companies keep on standby and streamline your worksite today! We understand the complexities of construction projects, and that's where our stellar dumpster rental services come into play. We aim to make your life easier by providing a clean and organized work environment, allowing your team to concentrate on what matters most - the construction work. With our variety of dumpster sizes, we are equipped to handle any project size, from minor renovations to major developments. Our pricing is straightforward and competitive, and our easy-to-use online booking system simplifies the entire process. We also recognize that flexibility is key in your line of work. If there's a sudden change in your project's scope or an unexpected need for an additional construction dumpster Hutchinson KS contractors can count on, our responsive team is prepared to accommodate. We're not just a service provider; we're your partner in ensuring the success of your project.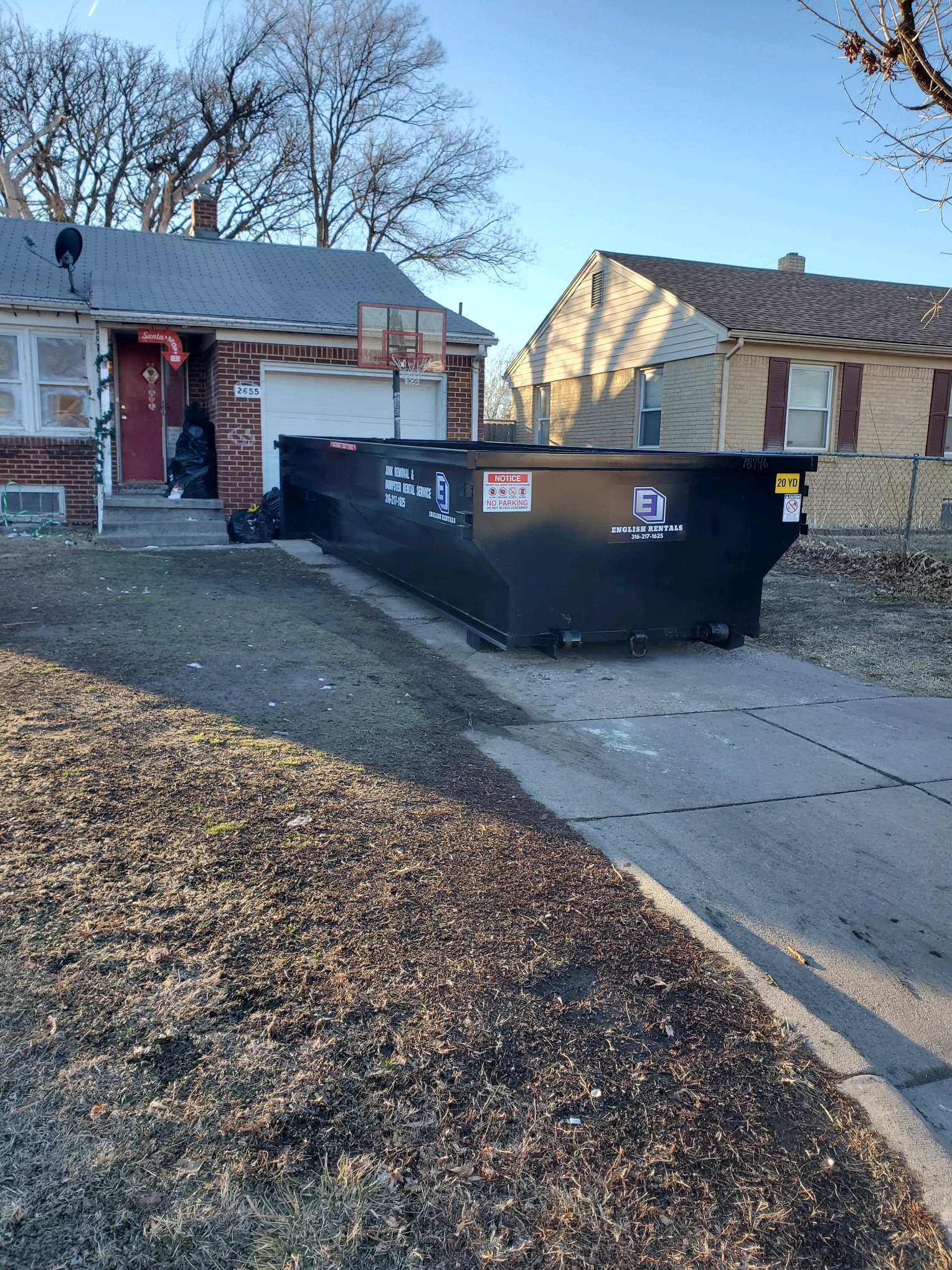 This commitment to exceptional customer service has earned us a stellar reputation among our commercial and construction clients. When you choose English Rentals, you're not just streamlining your waste management process; you're investing in a reliable partnership that contributes positively to your project's outcome.


Schedule a Roofing Roll Off Dumpster Rental in Hutchinson
Roofers trust our roll off dumpster rental in Hutchinson to help complete projects of all sizes and scopes. When you're working on a roofing project, there's a lot of debris - old shingles, nails, you name it. With our dumpsters, clean-up becomes a no-brainer. Just toss the debris into the dumpster, and we'll haul it away for you. Our range of sizes means no job is too big or too small. Plus, our easy online booking means less time arranging and more time roofing. With the dumpsters Hutchinson, KS roofers depend on, we can provide an efficient way to manage waste with ease. We allow roofing professionals to focus on their core tasks and improve productivity. With our straightforward, cost-effective, and reliable waste disposal solution at your disposal, you can focus on what you do best while our team handles the waste. Book the #1 roll off dumpster rental Hutchinson can provide and streamline your worksite!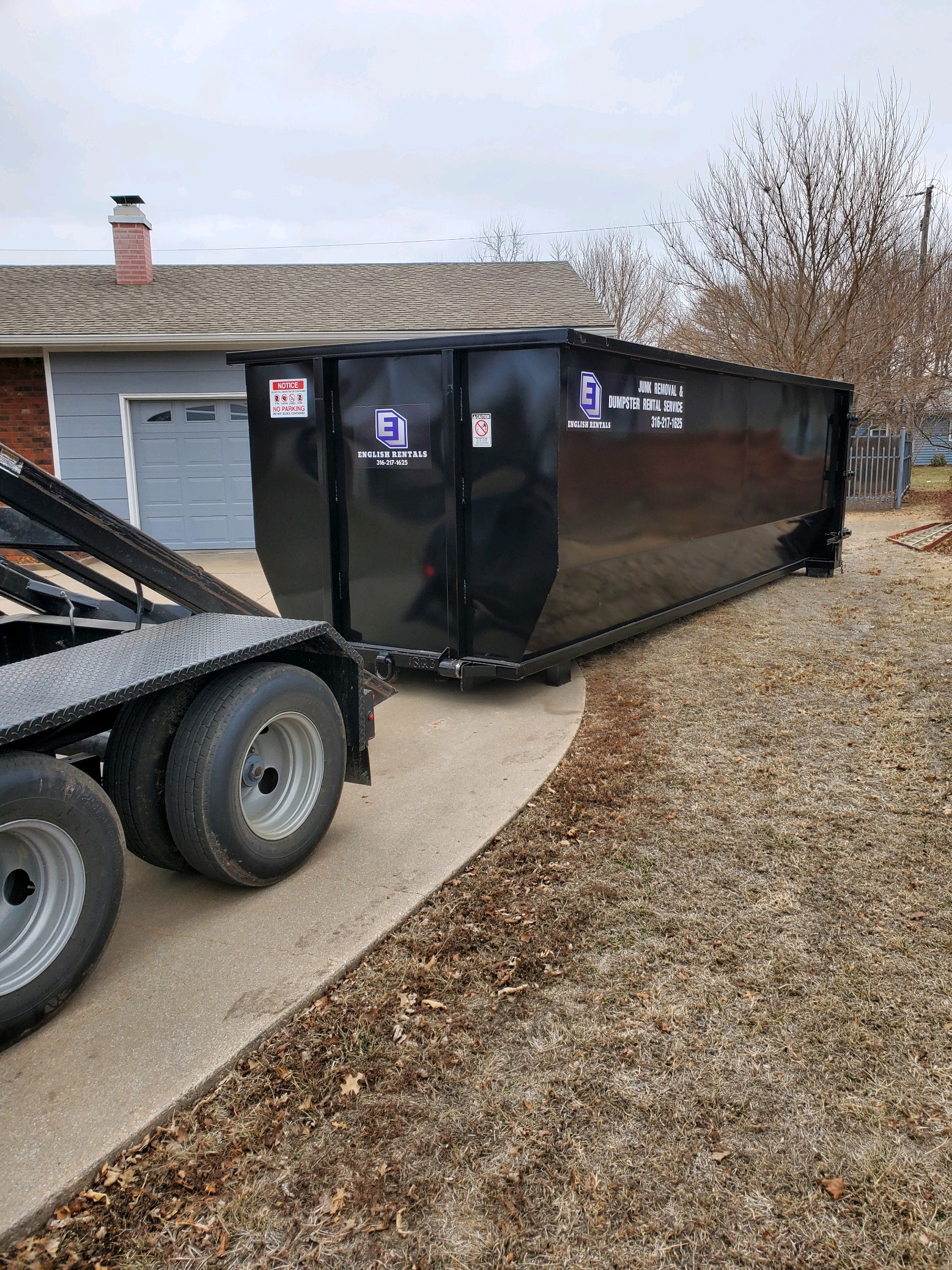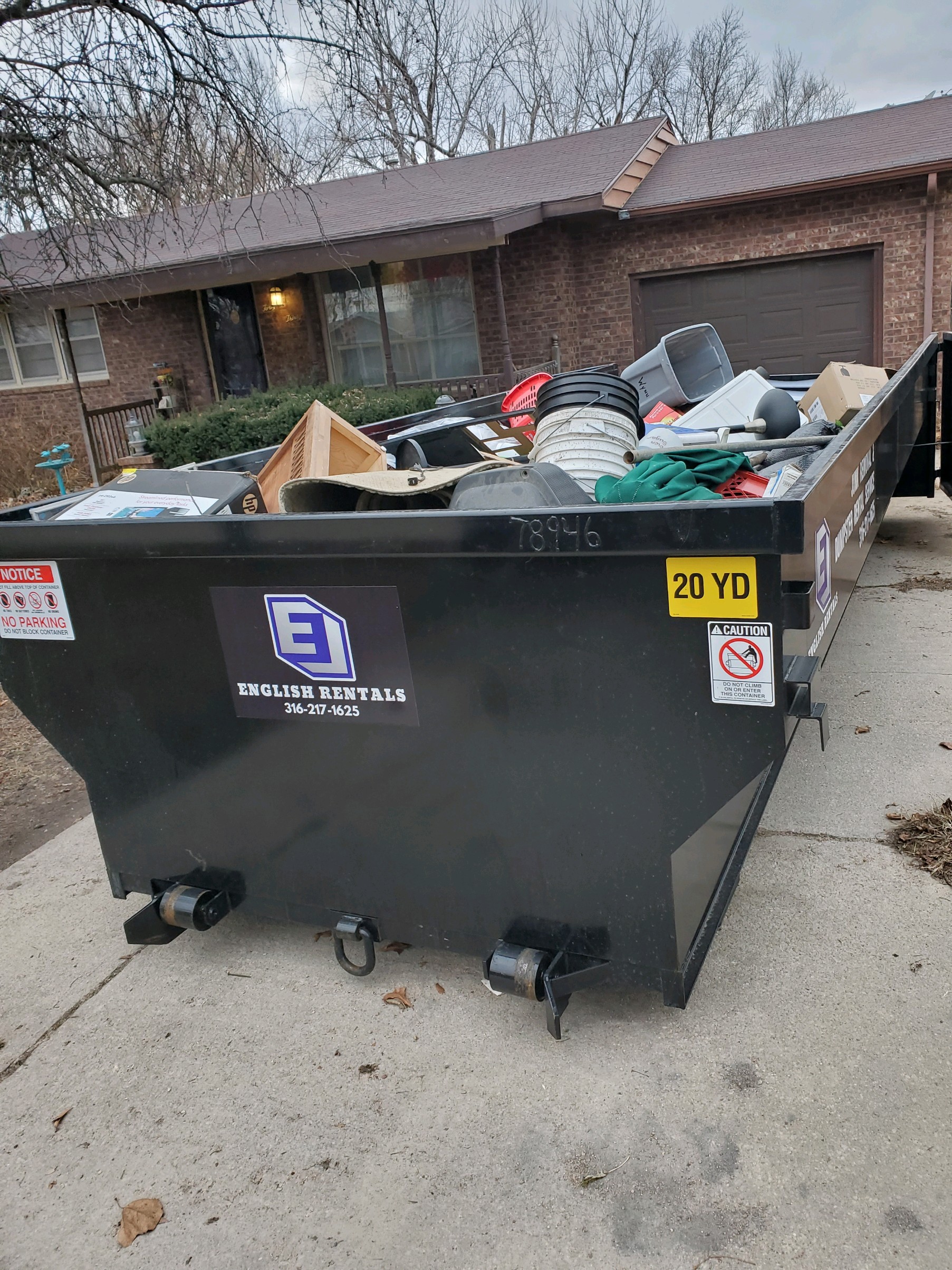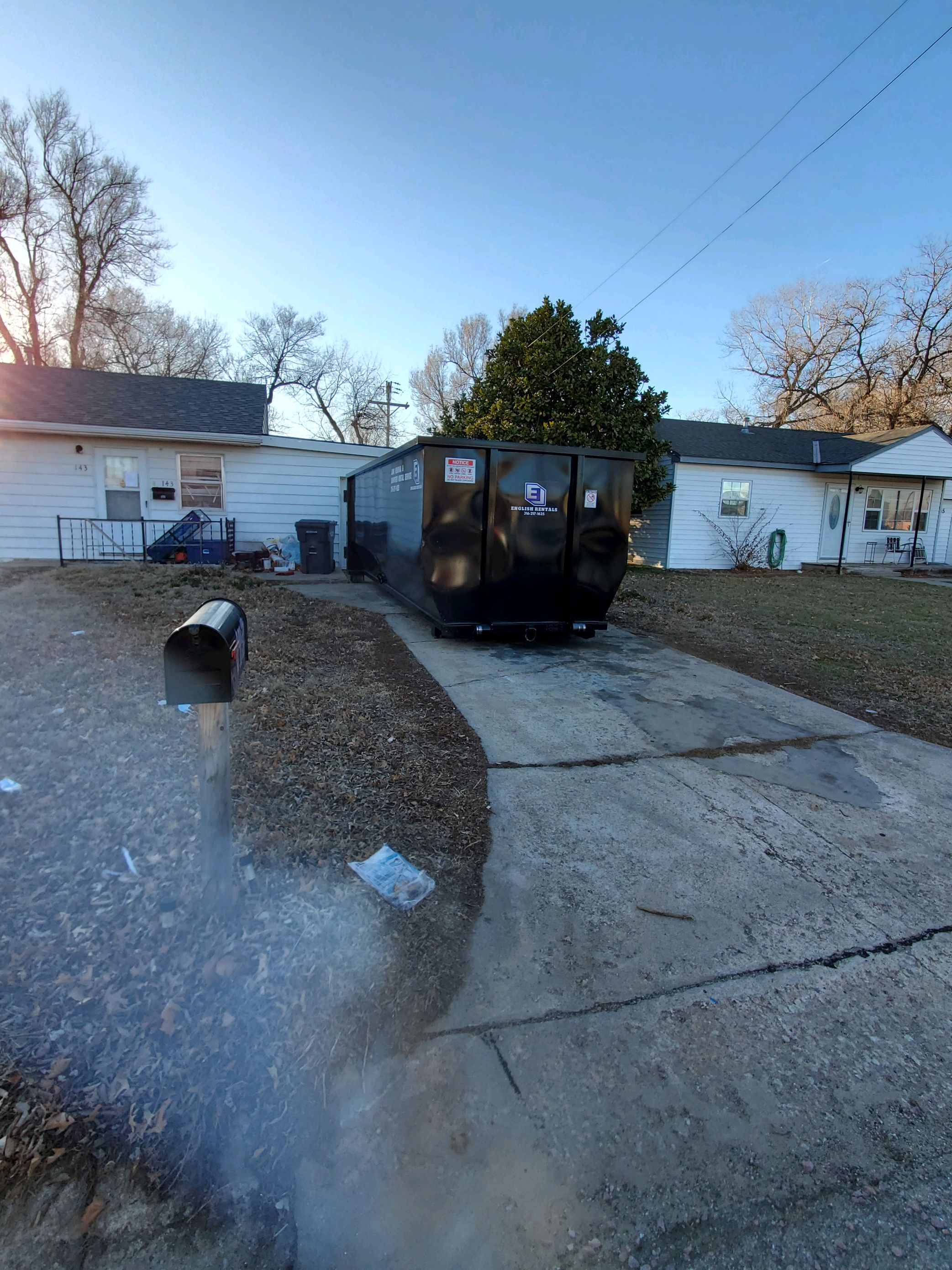 Commercial Trash Dumpsters Hutchinson KS Businesses Depend On
We offer optimal trash dumpsters Hutchinson KS uses to perfectly align with commercial needs, big or small. Our bins are ideal for businesses undergoing renovations, office cleanouts, or relocations, effortlessly handling bulky items like furniture, paperwork, and electronic waste. For businesses in the construction or landscaping sectors, our robust dumpsters can manage substantial waste volumes with ease. We're proud to be the go-to dumpster rental provider for apartment complexes, hotels, restaurants, office parks, and other commercial establishments. As a small business ourselves, we understand what it takes to keep things operational and efficient. Our flexible rental terms, prompt delivery and pick-up, and competitive pricing make waste management hassle-free and cost-effective for businesses of all sizes. Our team is committed to providing reliable and affordable dumpsters in Hutchinson KS that help your business or commercial space maintain a clean and productive environment, allowing you to focus on what matters most: running your business!
How to Book Our Hutchinson Dumpster Rental Online
Booking a Hutchinson dumpster rental from English Rentals is straightforward and convenient, thanks to our user-friendly online rental system. To get started, browse our website to find the best dumpster size to help you complete the task at hand, whether you're removing flooring or unwanted appliances or managing a large-scale housing development project. You'll find clear descriptions, including dimensions, included tonnage, and pricing, for our range of dumpsters, helping you decide the size best suited to your specific project needs.

Once you've made the best choice for your project needs, click the navy blue "Book Now" button next to the 20 or 30-yard bin. Review the sizing details, then click the "Add to Cart" button to begin the checkout process. Select your service type (homeowner or contractor), then click "Continue." Select your desired drop-off and pick-up dates using our calendar feature, then review your cart. If everything looks good, click the "Checkout" button to reserve your bin or the "Continue Shopping" button to add another bin to your cart. When checking out, input your contact and billing information, dumpster placement information, and a description of the items you're loading into the bins, and digitally sign the rental agreement. Be sure to include accurate and descriptive details for where you'd like the bin placed so that our team can easily and effectively deliver the dumpster without any hiccups. You'll then be prompted to submit payment information using any major credit card through our secure system.

After payment is received, you'll receive a follow-up email from our team with a digital copy of your signed contract and receipt. We'll give you a call leading up to the drop-off date to confirm a delivery window that works for you. Rest assured, our team is committed to timely delivery and pick-up to keep your project on schedule. With our online rental system, booking your Hutchinson dumpster rental is as simple as a few clicks of a button, offering you a seamless and stress-free experience.
Sizes and Prices For Our Hutchinson Dumpster Inventory
We offer a range of Hutchinson dumpster sizes at competitive prices to accommodate various residential and commercial project goals. Whether you're clearing out brush after a storm, downsizing and removing broken appliances, or managing a commercial roof replacement, we're confident we have the selections to help you get the job done with peace of mind!

We've got the 20 yard dumpster rental prices Hutchinson KS customers appreciate for all of their small to medium-sized projects. This dumpster is available for a 3-day rental for $300 and includes two tons of waste removal. For larger projects requiring more time, the 20-yard dumpster can also be rented for seven days for $350, with two tons of waste removal included. If you've been searching for the top-rated 20 yard dumpster rental Hutchinson KS has to offer, this bin is a versatile and affordable choice.

For more extensive projects, we recommend our 30-yard dumpster, measuring 20' long by 7' wide by 6' high. This larger size is perfect for commercial cleanouts, home renovations, or construction debris. The 30-yard dumpster is available for a 3-day rental for $400 and includes three tons of waste disposal. If you need more time, you can also rent it for seven days for just $450, with three tons of waste disposal included, making this bin the reliable rolloff dumpster rental Hutchinson can count on for all kinds of large-scale projects and budgets.

Transparency and affordability are at the forefront of our business model, so we keep our prices straightforward with no hidden charges, ensuring you receive the best value for your Hutchinson dumpster. With our diverse size options and competitive pricing, you can find a dumpster that fits your project needs and budget with ease using English Rentals.
Delivering the Trash Dumpster Rental Hutchinson KS and Surrounding Areas Count On
There are countless popular and historic sites, landmarks, and local parks, like Carey Park, Dillon Nature Center, and Rice Park, that make Hutchinson an exciting and dynamic place to live and work. There's no need to spend hours searching for the best "dumpster rental near me Hutchinson" with English Rentals by your side! As a local company, we understand the community's needs and work diligently to provide timely delivery and pick-up services, ensuring your project stays on track. Our dependable service combined with our robust and clean dumpsters has made us a preferred choice in the area. We work directly with local businesses, construction companies, property managers, and Hutchinson Public Schools to ensure our community stays waste-free.

We're proud to partner with the Reno County Municipal Solid Waste Landfill, ensuring all the waste we collect is disposed of responsibly in accordance with city, county, and state regulations. Our commitment to proper waste disposal helps us contribute to a cleaner and greener Hutchinson. At English Rentals, our service goes beyond mere business. It's our way of giving back to the community we're so proud to be a part of. Choose us for the trash dumpster rental Hutchinson KS can depend on and experience the local, reliable service you deserve.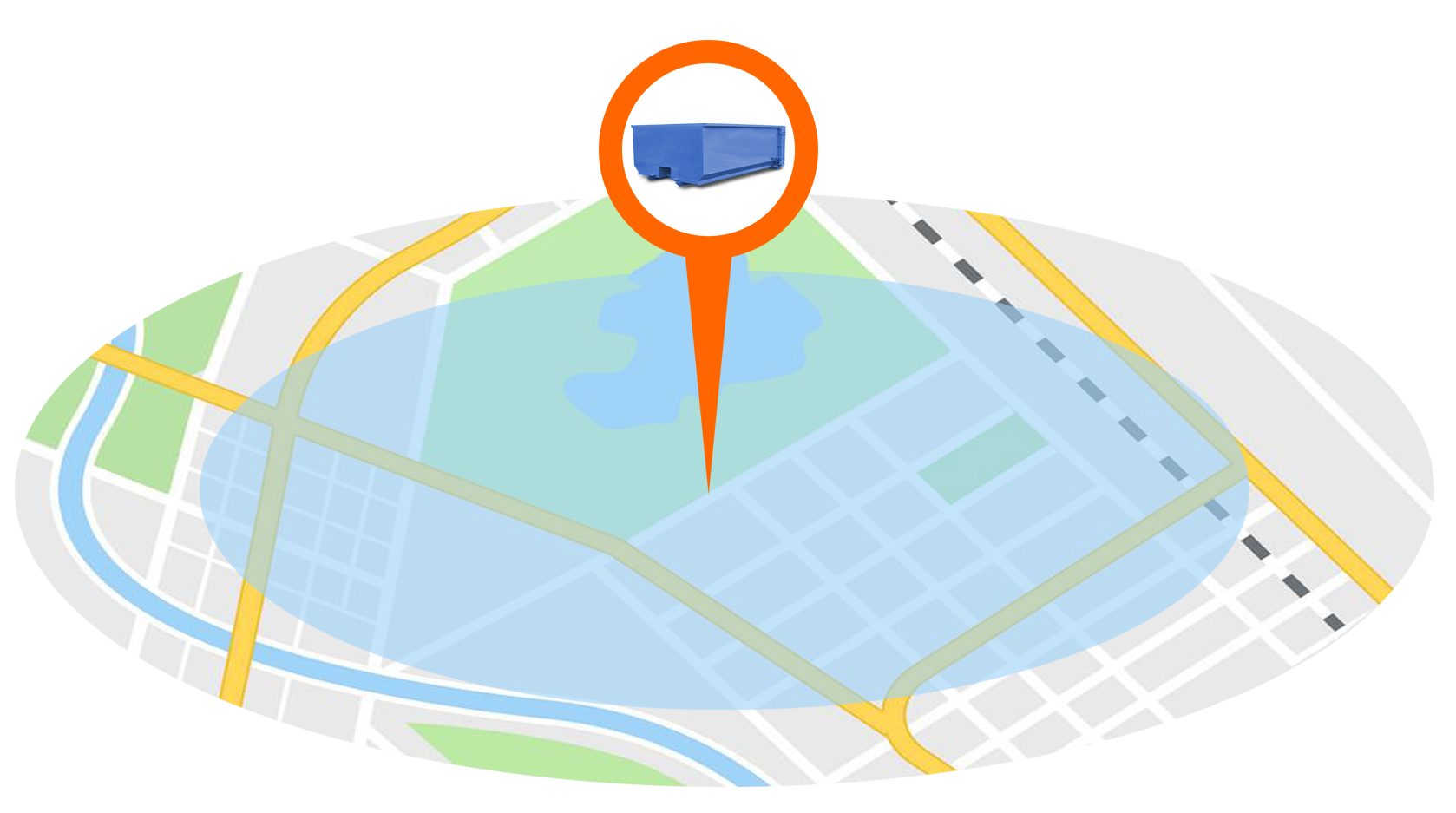 English Rentals is proud to deliver the top-notch trash dumpster rental Hutchinson KS and the greater Reno County area need to complete various waste removal projects with ease. We're dedicated to serving a wide range of customers, including those in the 67501, 67502, 67504, 67504, and 67505 zip codes. We're thrilled to deliver to the surrounding areas of Wichita, Walton, Hesston, Newton, North Newton, Elbing, Halstead, Sedgwick, Whitewater, Goessel, Valley Center, Peabody, Moundridge, Bentley, McPherson, and neighboring communities. If you're searching for the #1 dumpster rental El Dorado KS has to offer, look no further. Don't see your city or zip code listed here? Contact our team to see if we offer delivery in your area today!
View Service Area
FAQs About the Roll Off Dumpster Rental Hutchinson KS Uses to Clear Waste With Ease
We're here to provide the best roll off dumpster rental Hutchinson KS can provide and ensure it's a smooth, stress-free process. Learn more about our services and sizes by reading through our frequently asked questions below, and get in touch with us if you need any additional information by giving our team a call at (316) 217-1625.
Q.
What materials do you haul away?
A.
We offer the large dumpster rental Hutchinson KS uses to haul away construction debris, household junk, roofing material, hot tubs, E-waste, appliances, yard waste, furniture, televisions, appliances, and mattresses. We do not accept hazardous materials, including flammable liquids, medical waste, liquid paints and lacquers, motor oil, or gasoline. If you have any questions about the waste you need hauled away, give us a call!
Q.
Do you deliver to areas outside of your service area?
A.
Yes, we do, although additional delivery fees may apply depending on how far you are from our normal affordable hauling and dumpster rental, Hutchinson Kansas base. Be sure to add your delivery address to the cart to get an accurate custom quote, or give us a call at (316) 217-1625 to learn more about our service area.
Q.
How much does it cost to rent a dumpster?
A.
We're confident we have the most cost-effective roll off dumpster rental Hutchinson KS has to offer! Our price range varies and is dependent on the size of the bin, the rental timeframe, how much waste is being hauled away, and the delivery location. Our 20-yard begins at $300 for up to three days, with two tons of waste disposal included in the base price. If you're looking for an industry-grade cheap dumpster rental Hutchinson, KS customers can depend on to be high-quality, you're in the right place!